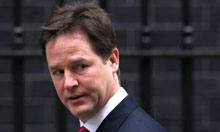 "Here's an evening summary:
• Britain has hit back at France after days of criticism of the UK economy. Nick Clegg told France's prime minister that the barracking was "simply unacceptable" and must stop. The unusual move came after the French finance minister became the latest Gallic politician or official to denigrate the UK. Robert Zoellick, head of the World Bank, also weighed in by voicing concerns over the war of words between the two nations.
• Belgium's credit rating was downgraded. Moody's said the indebted Belgian state faced serious problems, and would struggle to achieve significant economic growth as the crisis across the eurozone deepens. Seperately, Fitch threatened to downgrade six eurozone countries including Belgium, and lowered France's outlook to 'negative'.
• Italy's technocratic government won a crucial confidence vote.The victory will help Mario Monti to push through a €30bn-plus austerity package.
• The EU released a draft version of its new fiscal pact. This includes controls on budget deficits, and powers to drag offending countries to the European Court of Justice.
• There was more gloom for Ireland as figures showed its economy shrank by 1.9% in the last quarter. Economist warned that the Irish government may be forced to seek a second bailout, or restructure its debts. "
http://www.guardian.co.uk/business/2011/dec/16/debt-crisis-eurozone-depression-italy